We use a combination of Weyergans devices and techniques to achieve desired aesthetic and health effects.
Differentiated Cellulite Treatment (DCT®)
Weyergans High Care® AG offers the worldwide unique patented differentiated cellulite treatment. It is based on activation of the lymph system, firming of connective tissue, stimulation of fat metabolism and prevention of potential leg disorders so you not only improve your figure but also stay fit and healthy. Everything is achieved by using a combination of Weyergans cosmeceuticals, techniques and appliances, including SPM®, Slide Styler and body wrapping.
SPM®
The suction pump massage is a combination of cupping and massage that uses a specific pre-selected negative pressure. It is a holistically oriented treatment for the face or whole body, which is also suitable for applications in physiotherapy. It treats cellulite by the means of lymph drainage, tissue regeneration, stimulation of fat metabolism and tissue firming. The results are visible immediately. With regards to facial and décolleté care, it is suitable not only for regeneration (anti-ageing), lifting and wrinkle treatment, but also for acne and rosacea. Moreover, it treats pregnancy marks and is ideal for relaxing massages or decongesting cramped muscles.
Slide Styler® (Mechanical Lymph Drainage)
Mechanical lymph drainage or "air boots" is a gentle, rolling pressure massage with air cushions in which pressure moves from bottom upwards, from the ankles to knees, hips and pelvis. During the procedure, the metabolism processes and lymph drainage are activated, cellulite is reduced, and metabolism is improved. This procedure is suitable for persons with a sedentary lifestyle, obesity, cellulitis, venous reflux disorder, at physical overload and for prophylaxis of leg diseases.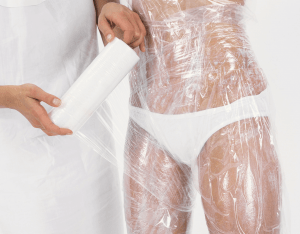 Body Wrapping
Weyergens High Care® have a special version of body wrapping patented. In a mixture of aroma and compression therapy, the affected parts of the skin are supplied with a stimulating preparation (eg cinnamon cream, algae, etc.) and then wrapped up with an effective foil technique. The aim of the treatment is activation of the fat metabolism, the circulation and the lymph circulation, also girth reduction and lasting detoxification of the body.
Mesocare® (Electroporation and Electromechanical Stimulation)
Electroporation rejuvenates the skin and reduces wrinkles by infiltrating highly effective active substances and cosmeceuticals without the need for needles or syringes. Myolifting strengthens and profiles facial muscles with the aid of electromechanical stimulation. The myolifting is carried out with up to eight electrodes in a targeted way (passive gymnastics). The treatment is pleasant and customer can adjust the intensity herself with a remote control. The slightest pulse intensities are enough to achieve visible and long lasting results.
Sono Handy (Ultrasound)
Ultrasound infiltrates active substances into the dermis and thereby produces anti-ageing and regenerative effects on all areas of the body including face, neck and décolleté. In addition to the sonophoretic action, it also has a massage effect arising deep down in the skin or in the muscles due to the micro-vibrations. Furthermore, it improves circulation and lymph flow and can thus contribute to an activation of cell metabolism and to an increase of pH value in the case of hyperacidic tissue. In this way ultrasound treatments help to promote the elasticity of the tissue (collagen synthesis).
Dermio Oxygen Therapy
Dermio Care® Plus is a device to carry out the Dermio Care® Plus treatment (from dermis = skin / ion = electric particle, Plus stands for the additional phototherapy module). The energy of oxygen is applied to the customer in the form of electrically negatively charged ions (plasma treatment). The procedure pursues several aims: visible skin rejuvenation as a result of the very first treatment, maintaining good skin health and promoting cell metabolism in the whole organism.
The Dermio Care® Plus treatment is based on findings from quantum physics and is patented. The negative ions plasma are gained from the surrounding air. The energy is channelled into the specially coated "Top Head" and combined with colour light therapy there. The ions penetrate through the skin to stimulate cell metabolism. At the same time oxygen is inhaled through the mouth or nose and is thus made available to the whole organism, especially the brain.
Dermio Care Body emits highly concentrated ions into the special antistatic Dermio bag. The objective is to improve the skin appearance specifically in combination with acid/ base oriented regime.
Dermionology is aimed at customers with high demands regarding their anti -ageing procedures and immediately visible and noticeable treatments results.
The treatment is innovative and due to the patent protection is unique and exclusive. The treatment usually takes 30 minutes and it is a very pleasant treatment overall. The treatment is suitable for everyone, depending on individual consultation. A side effect may be a strong urge to pass water. You would feel very fresh as lymph problems on your feet would disappear and your skin would look amazing.
The Dermio Body Concepts is the treatment method of the future.
Beautiful Lips
A photochemical effect is used to splinter the structure and penetrate deeply through the skin providing nourishment and naturally enhancing lip volume with Weyergans exclusively developed UV lamp in connection with hyaluronic acid. This 10 minute treatment is non-invasive and completely pain free.